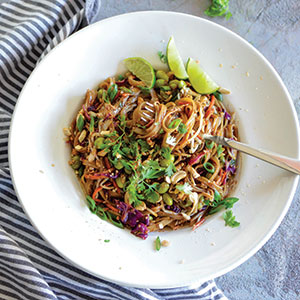 Although the ingredient list looks long, this tasty recipe pulls together quickly for an amazing flavor-filled meal.
Serves 4
For the sauce:

3 tablespoons tamarind paste
1 tablespoon garlic chili sauce
⅓ cup fish sauce
¼ cup water
1 teaspoon rice vinegar
¼ cup brown sugar
1 tablespoon peanut butter
2 tablespoons soy sauce or tamari
For the pad thai:

2 tablespoons avocado oil or any mild flavored, high-heat oil
2 eggs, whisked
¼ cup thinly sliced green onions
3 cloves garlic, minced
2 teaspoons freshly grated ginger
½ cup shredded carrots
1 cup bean sprouts
1 cup shredded cabbage
½ cup edamame
1 (8-ounce) package pad thai noodles, cooked according to package directions
For the garnish:

½ cup chopped cashews or peanuts
½ cup sliced green onions
¼ fresh cilantro leaves
Lime wedges
In a bowl, whisk together the tamarind paste, garlic chili sauce, fish sauce, water, rice vinegar, brown sugar, peanut butter, and soy sauce. Set aside.
Heat a wok or skillet over medium heat and add the oil. When the oil is hot, stir in the eggs and cook just until soft. Then add the green onions, garlic, and ginger. Turn the heat to low if needed. Once the eggs are cooked, stir in the carrots, bean sprouts, shredded cabbage, and edamame until combined.
Over medium heat, add the noodles to the vegetable-and-egg mixture and then add the sauce. Toss lightly to combine. As the noodles and vegetable mixture turn in the sauce, the sauce will thicken slightly. Season to taste with additional soy sauce or tamari.
Serve with chopped cashews or peanuts, green onions, cilantro leaves, and lime wedges.